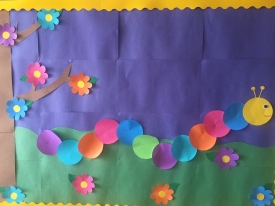 In the infant room at, Grow With Us Child Center, we strive to make every child feel like the wonderful gift from God that they are. We tell them every day that they are a miracle from God and that they are loved very much!

We do different art projects, typically with their hands and feet. As they get older we let them start to color and paint on their own. We do water play, typically on the high chair trays in the classroom. We sing a variety of songs and read all types of great picture books. The staff in the infant room get on the floor with the children at eye level and enjoy playing and motivating them to achieve their appropriate goals! When the nice weather is upon us we love taking them for walks in the stroller around the block and to the park to sit under the shade tree and enjoy the outdoors!

As they start reaching the age of 1, we start short prayers with them before their meals, start introducing sippy cups and silverware.