Grow With Us Child Center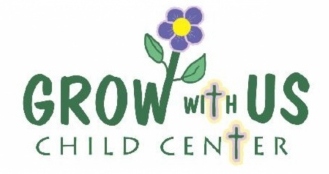 "Grow With Us Child Center"
Grow With Us - In Body, In Mind, & In Faith



For Parents - Please Call Our Director For Current Rates & Availability!
If you have any questions or desire to enroll your child or children,
please contact us at either our email address or our phone number shown below!


For Potential Employees -
If you are a certified caregiver who is interested in joining our team,
PLEASE INQUIRE BY CONTACTING DIRECTOR JESSICA TREU AT:

growwithuscc@gmail.com
If you have questions or would like more information,
please email or call us at (920) 984-3001!


If anyone shares our faith in this effort and wishes to support it,
please mail your donation to:
Immanuel Lutheran Church
P. O. Box 219; Black Creek, WI; 54106
Thank You So Very Much!