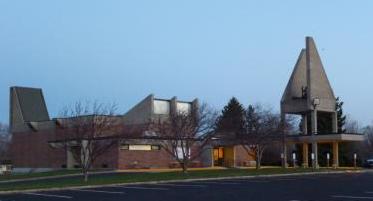 A Brief History:
Immanuel Evangelical Lutheran Church was incorporated as a Christian congregation in the village of Black Creek, Wisconsin in 1901. Its early days were typical of many startup churches in those days with shared and short pastorates, changing plans and locations, etc. During the early 1900's, two small Lutheran congregations south of Black Creek - from Binghamton and Twelve Corners Road - merged into Immanuel Lutheran. This lead to the building of a church in Black Creek on East State Road which still stands today.
Having been blessed with significant growth, the Immanuel Lutheran congregation resolved to build a new church in Black Creek in the mid-1960's. A small farm was purchased on South Maple Street and a church with "A Mighty Fortress" design was dedicated in 1969. Its floor plan was far ahead of its time (especially its nearly square sanctuary) and it remains our worship home still today.

Among its list of pastors, the Rev. Arden Wood stands out. During his forty years of service at Immanuel Lutheran, the congregation more than doubled in size, built its new church, and established a reputation for commitment to youth ministry whether at home, at Camp Bird, or at Fox Valley Lutheran High School. No other pastor's term of service or shepherding through such a series of significant changes comes close to that of Rev. Wood. His retirement in 1992 was an item of community recognition and was covered extensively by local newspapers.